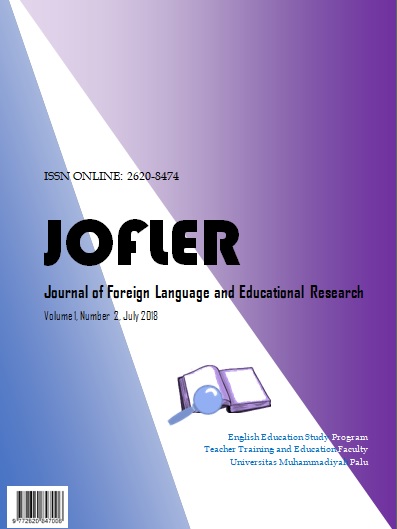 Jofler is a media of research publication. It is distributed by Teacher Training and Education Faculty of Universitas Muhammadiyah Palu.
This journal is contained of research reports in Education and is also opened for foreign language research.
Coordinator:
Dr. H. Mustamin Idris, M.Si.
Chief Editor:
Mukmin, S.Pd., M.Pd.
Editorial Board:
Prof. H. Hasan Basri, M.A., Ph.D. (Universitas Tadulako)
Susi Machdalena, Ph.D. (Universitas Padjadjaran)
Dr. Eko W. Koeshandoyo, M.Hum. (Universitas Padjadjaran)
Nadrun, S.Pd., M.Pd., M.Ed. (Universitas Tadulako)
Editorial Executor:
Ir. Andi Kaimuddin, S.T., M.M., IPM., ASEAN Eng.
This journal is issued twice a year (January and July).
All the correspondence related to article script is addressed to:
FKIP Universitas Muhammadiyah Palu
Jl. Hang Tuah No.114
Telp: +6285241276562
Fax: (0451) 425627
Email: joflerfkipump@gmail.com
Website OJS: http://jurnal.unismuhpalu.ac.id/index.php/JOFLER
Current Issue
Vol. 4 No. 2 (2021): Journal of Foreign Language and Educational Research
This volume contains mostly descriptive qualitative research due to the situation of Covid-19 Pandemic that currently becomes the world issues. The research results presented in this issue are related to strategies in teaching speaking for Junior and Senior High School students, students's strategies in Speaking English, a study about students' anxiety in Speaking, and an analysis of Students' ability in Writing. There is also a correlational study examining the relationship between Metacognitive Knowledge and Reading Comprehension ability.
Full Issue
View All Issues